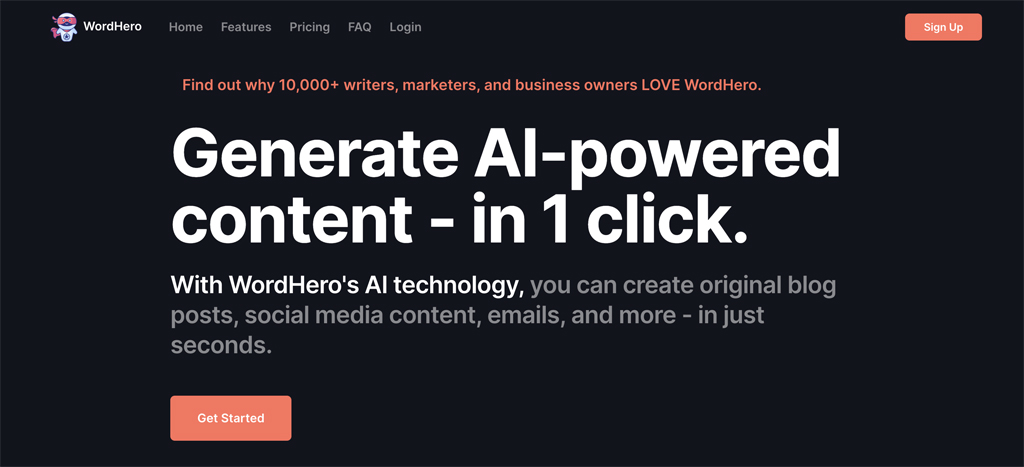 Is WordHero the best AI content generator choice? What exactly can you create with WordHero, and does it deliver good content? Here in my WordHero Review we'll take a detailed look at this software tool to see if it's the right fit for your websites and other content needs.
What Type of Content Can WordHero Create?
Probably the most impressive part of WordHero is the amount of choices you have for generating different types of content—many are pretty unique to AI content generators.
Blog Posts
Social Media
Email
Amazon Product Descriptions
Book Descriptions
Cover Letters
Facebook Ads
FAQs
Food Recipes
Google Ads
Job Descriptions
Lead Magnets
LinkedIn Bios
Press Releases
Sales Pages
Social Media Ideas
Video Ideas
And More
WordHero Dashboard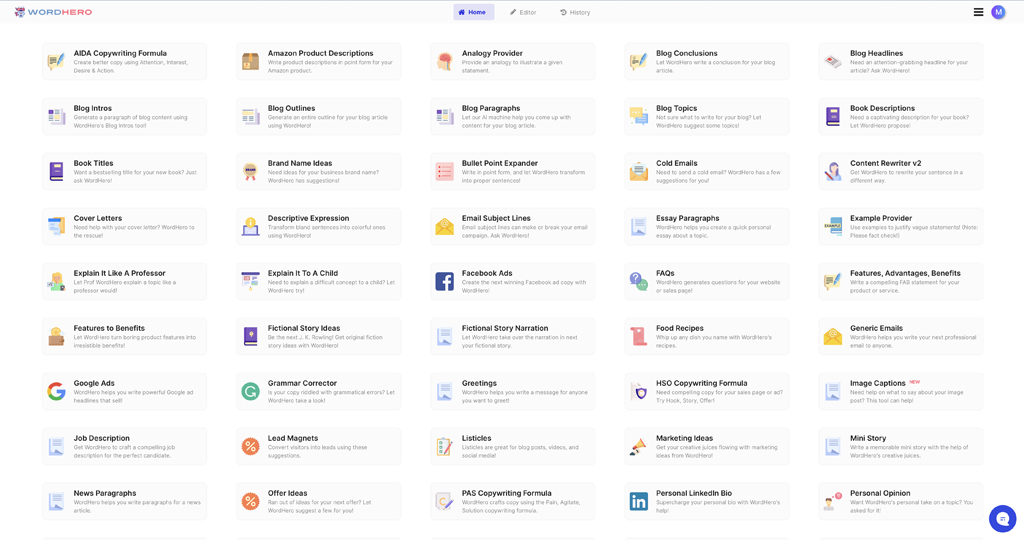 While the WordHero dashboard isn't difficult to use, it could be streamlined and made more user-friendly for beginners. There isn't a wizard or guided method for generating your content, so you kind of have to click on the buttons and experiment. There are some tutorials online which I would definitely recommend if you want to use WordHero.
How to Create Your Content with WordHero
Creating a Blog Post with WordHero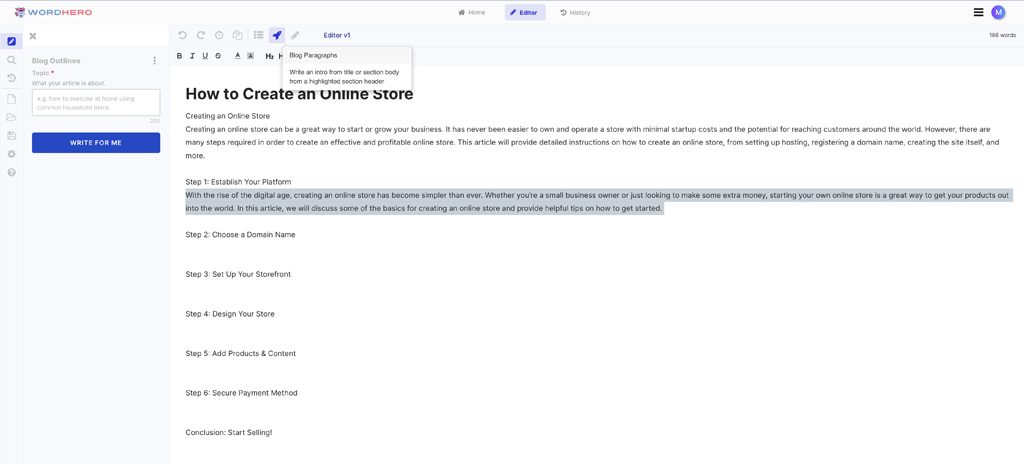 I have to admit that I was kind of disappointed with the blog post functionality in WordHero. There isn't a quick way to generate a complete blog post. You're basically generating one paragraph at a time. Also, the amount of text generated per paragraph isn't that much. And, some of the content could be redundant.
While the actual process of using WordHero for blogging isn't difficult, it can get tedious if you're trying to churn out a lot of content. Be prepared to add a lot of you're own input when using WordHero. I know it's always a good idea to add your own touch to your blog articles, but at this point I would like to see WordHero be able to do more of the work. Hopefully, there will be improvements made in the near future.
Creating Social Media Content with WordHero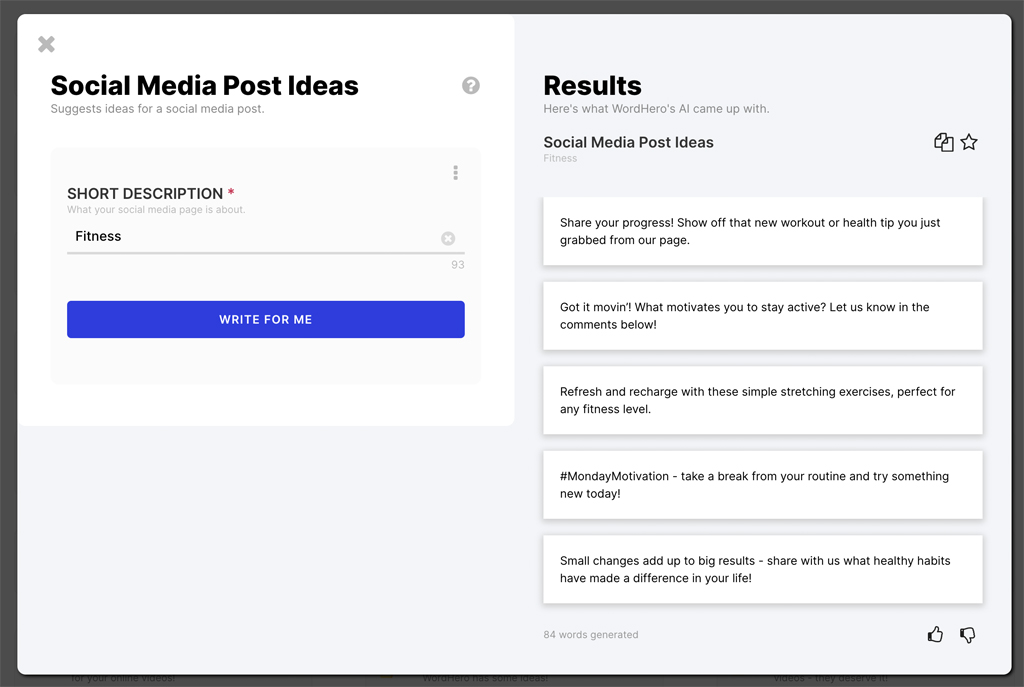 When it comes to social media postings, WordHero is rather on the light side. In fact, it doesn't generate ready made posts for Facebook, Twitter, or Instagram, but rather generated a list of generic ideas for social media posts:
WordHero for Video Content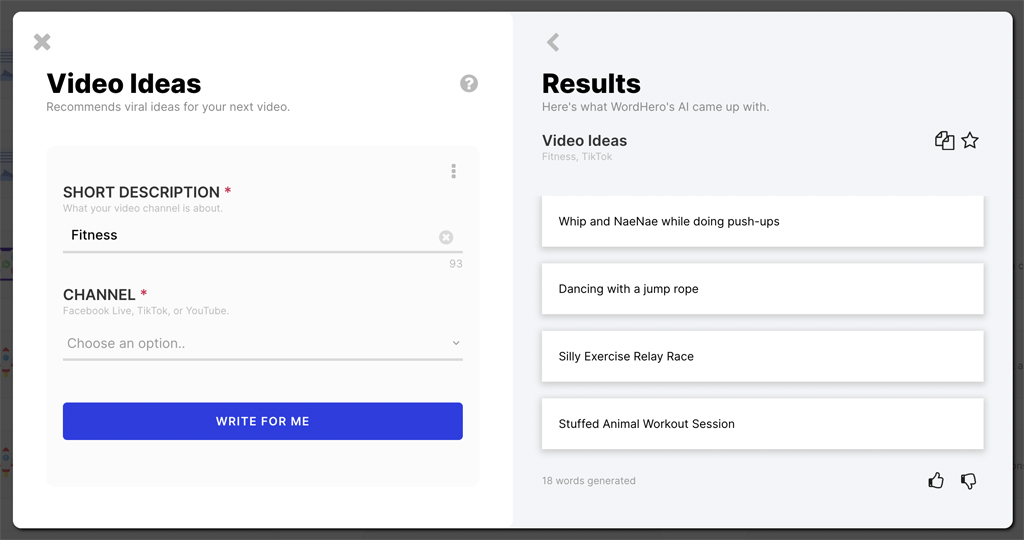 Likewise for TikTok, YouTube, and Facebook video content, WordHero is on the light side. For example, when generating ideas for TikTok, this is what we got:
Generating Emails with WordHero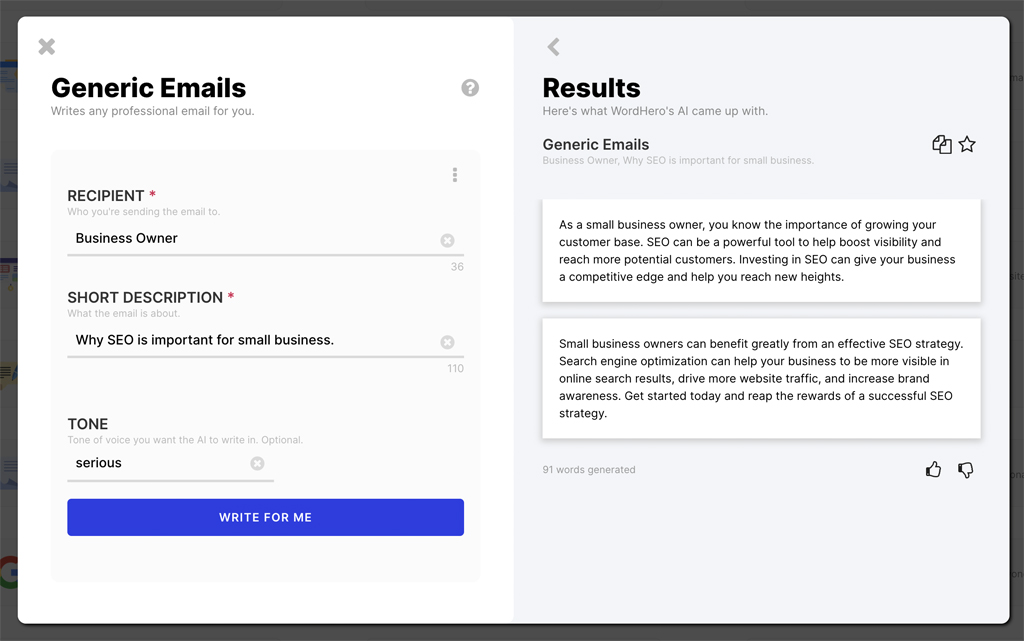 Again, when using the Email generation functionality, we were a bit underwhelmed. As with the other content generation, you get a choice of some smaller paragraphs of text. While I suppose it could help you get started, we would like to see more elaborate text generation from WordHero.
How is the Quality of Content You Get from WordHero?
The actual content generated by WordHero isn't bad, but as I mentioned above, it doesn't generated a whole lot of content at one time. You could find yourself spending more time editing and adding text than you'd like to.
I would also like to see WordHero do more formatting with their outputted text. While the editor is very easy to use, it would save time if pre-formatting was included as with other AI content generators.
Pricing: How Much Does WordHero Cost?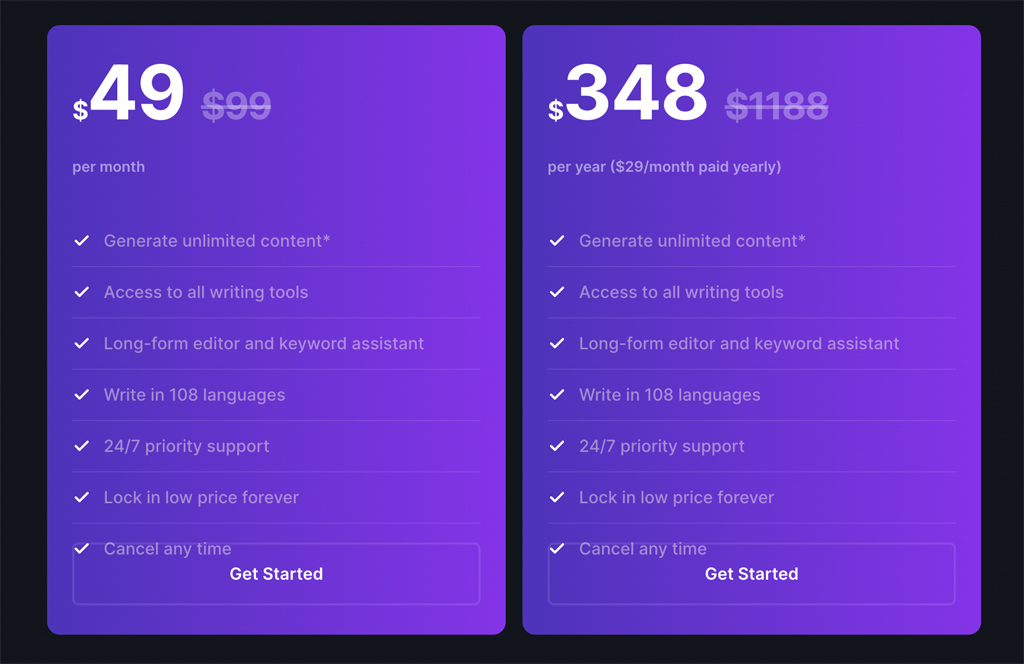 Currently, WordHero costs $49 mo. or $348 if paid yearly. At press time, they are also offering lifetime plans costing $89 for the Starter and $269 for the Pro Plan. However, please check their website to make sure these lifetime plans are still available as these type of deals often go away suddenly.
WordHero Customer Support
When it comes to customer support, I do have to give WordHero props. They are definitely have one of the more responsive customer support departments in the AI content generation industry.
Although WordHero does not currently offer live chat support, there is a chat box where you can ask questions or request assistance. Response time is listed as within a day. However, I received a reply within a few hours and also received multiple follow up messages.
Customer Support is definitely one of WordHero's strengths.
WordHero Pros and Cons
Pros:
Great Selection of Tools
Responsive Customer Support
14 Day Money Back Guarantee
Cons:
Could be More Streamlined
Requires Many Steps for Long Content
Generates Content One Paragraph at a Time
More Proofing Required
Text Output Requires Formatting
Recommendation
At this early stage of AI content generation tools, it's expected that there may be some areas that need more work. Unfortunately, it looks like WordHero still has a ways to go before it can become one of the major players here. I like the idea behind a lot of their features. However, their blog generation just takes too much time and can get a bit tedious generating a smaller single paragraph at a time.
Similarly, the social media, email, and video content generation could also be more robust. At this point, there are other AI tools available that can do a better job at generating a lot more content for serious content creators.
On the plus side, I do have to commend WordHero on their customer support. It does give us hope that there will be improvements with their product in the future.
WordHero Review Ratings