You need a professional SEO software tool if you really want to improve your search engine rankings the most. While there are a number of great SEO platforms out there, they can tend to be on the expensive side for those on a limited budget. Here, in my Diib Review, we'll take a look at one of the more affordable solutions to SEO software.
At first glance, Diib looks like a great alternative to the more expensive SEO tools. But, does it deliver better search engine results? Let's take a closer look.
How Can Diib Help Your SEO?
Diib allows you to monitor your website's SEO performance, plus it gives you advice on how to improve your search engine performance.
Signing up for a free Diib account is very quick and easy. Once you connect your website you can check you dashboard to get information on your: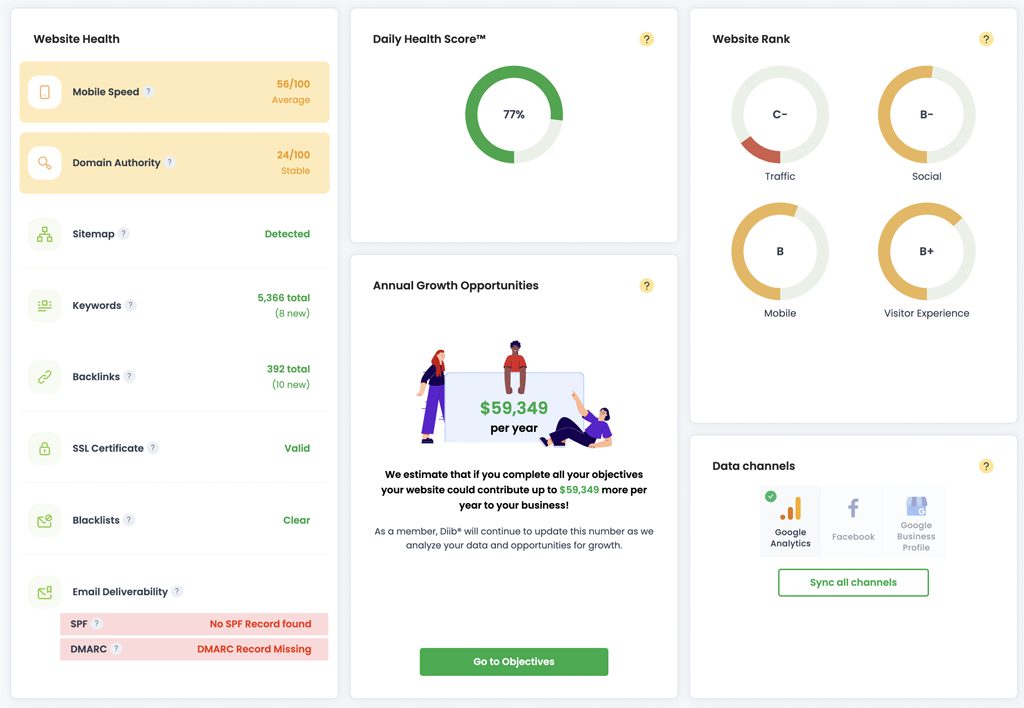 Website Health
Domain Authority
Sitemap
Keywords
Backlinks
SSL Certificate
Blacklinks
Email Deliverability
Mobile Speed
Daily Health Score
Website Rank Grade
Traffic
Social
Mobile
Visitor Experience
Annual Growth Opportunities
Core Vitals
How Does Diib Work?
Along with monitoring your SEO progress, Diib also gives you objectives on how to improve your website. Plus, it alerts you to potential issues that can negatively affect your site. Note that in order to get detailed information on your objectives and alerts, you'll need to upgrade to the paid plan.
You also get access to the Keyword Explorer tool. And, by connecting your Google Analytics, you can also view your daily, weekly, and monthly stats for Unique Visitors, Returning Visits, Brunch Rate, Avg. Visit Length, Page Views, Mobile Visits, and Social Visits.
Pricing: How Much Does Diib Cost?
One of the things I like about Diib is that you don't have to choose between a bunch of different expensive plans. With Diib, you can start out using their Free Plan, then if you like it, you can upgrade to their one Pro Plan. With Diib's Pro Plan, you get unlimited access to all of their tools—unlike other SEO tools where you have to pay incrementally more for different plans with more features.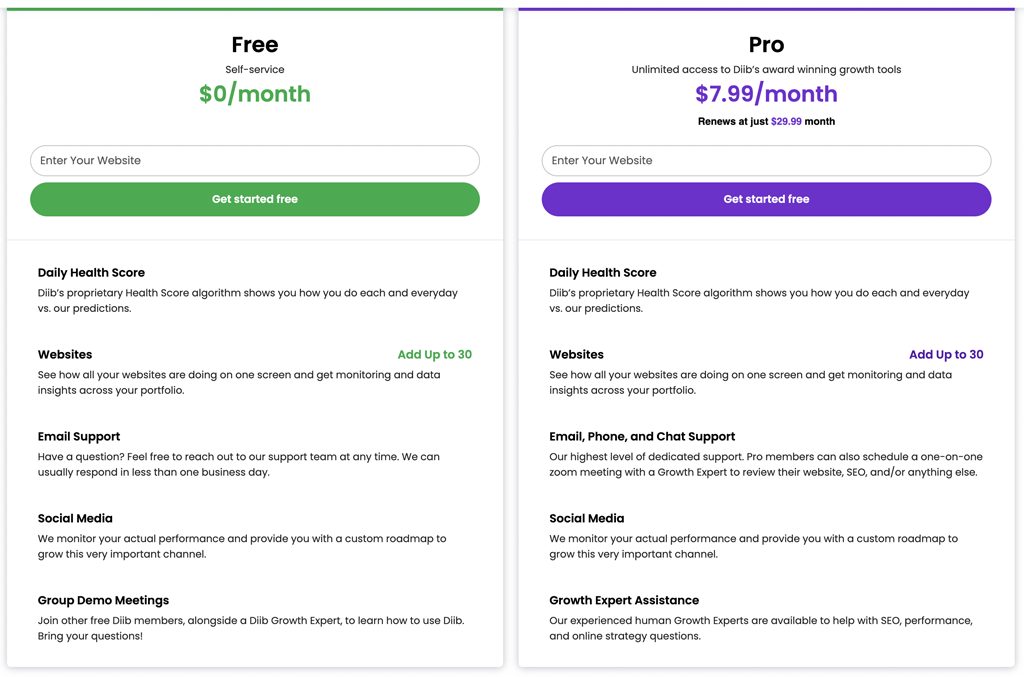 Diib Special Offer
If after reading my review you are interested in Diib, now is a great time to try out their Pro Plan. They are currently (at press time) running a promotion where your first month costs only $7.99 (regular price is $29.99). Plus, they are including a Free DA 69 backlink! I'm not sure how long they are running this promotion, but if you're interested, click the link below to sign up for a free Diib plan. Then, go click on the Pricing menu link to upgrade.
Should You Upgrade to the Diib Pro Plan?
While the free Diib plan is great for getting started and monitoring how your websites are doing, to get the most benefits from Diib, I would consider upgrading to the pro plan.
With the Diib Pro Plan, you get full, unlimited access to their services. For example, as I mentioned above, with the Pro Plan you get detailed tips on how to accomplish your SEO objectives and actionable steps on how to fix any issues you are alerted about. You also get SEO and Keyword improvement suggestions, website monitoring alerts, a weekly snapshot email about potential issues and opportunities, the ability to add up to 30 websites, and free access to a dedicated expert if you need help.
Diib is also extremely affordable compared to the other SEO tools that I recommend such as SEMrush and Ahrefs. As you can see below, Diib cost just $29.99 mo., while SEMrush costs $119.95 mo to $449.95 mo., and Ahrefs runs $99 mo. to $999 mo. Now, SEMrush and Ahrefs contain much more detailed reports, so if you're an SEO agency, then you're going to want to stick with them. However, for business owners, entrepreneurs, marketers, and other website owners, Diib is a better fit. And their current discount offer (see above) makes it even sweeter.
My Results Using Diib
I found the signup process with Diib very easy and quick. And, I also like their account dashboard interface that is very intuitive and presents helpful details on your website SEO. However, be aware that there you can also get this data from other sources (e.g., your Google Analytics and one of the other limited free plans from SEMrush or Ahrefs).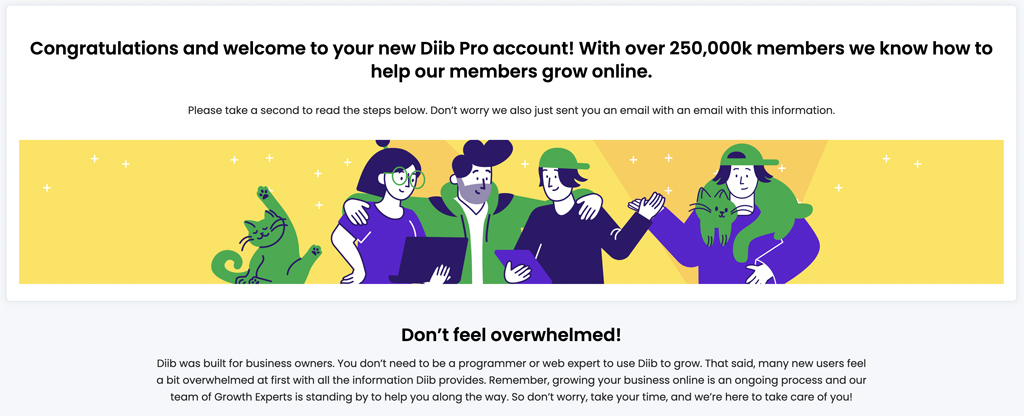 I also signed up for the Pro Membership Plan to take advantage of the discount first month rate ($7.99) and the Free DA 69 backlink. While I do like this introductory offer as it lets you really get a better idea of what Diib is about, I was somewhat disappointed that the Objectives and Alerts sections, that are unlocked when you become a Pro Member, only show general ideas or solutions. If you actually want to take action, you are prompted to purchase one of the Fully Managed Growth Plans that are more expensive (currently $499 mo. to $1999 mo.).
Given what I mentioned above, there isn't that much I can report on as to how well Diib actually improved my SEO. There are a few things that I can review here.
Free DA 69 Backlink
After a couple of days, I did receive the free backlink. It's actually part of Diib's Featured Members directory. You can include information about your business and website on your page. It is a legitimate backlink—though when I checked, it was actually a DA 66.
Rank Guard

Rank Guard is one of the most interesting features with Diib. It's supposed to measure how you rank for certain keywords against certain competition. Unfortunately, this tool is apparently in beta mode at this time and the data I got was rather limited. Also, there's a note on the dashboard stating that you'll be notified as new ranking opportunities are identified. Unfortunately, I didn't get any.
Core Web Vitals
I'm not sure about the Core Vitals feature in Diib. The data I got there differs significantly from my CWV results at GTmetrix. Whereas GTmetrix says my Core Web Vitals are fine (as does Google Search Console), Diib reported that I needed improvement in 3 out of 6 categories. No detailed information is given as to exactly how they obtain their Core Vitals data, so your guess is as good as mine.
Diib Customer Support
The Diib Customer Support dashboard allows you to send messages if you have questions. Once you become a Pro Member, you also get access to Live Chat, Phone, and Email Support. You can also schedule a meeting with one of their experts for consultations.
Unfortunately, the day I tried contacting support via live chat, it was unavailable: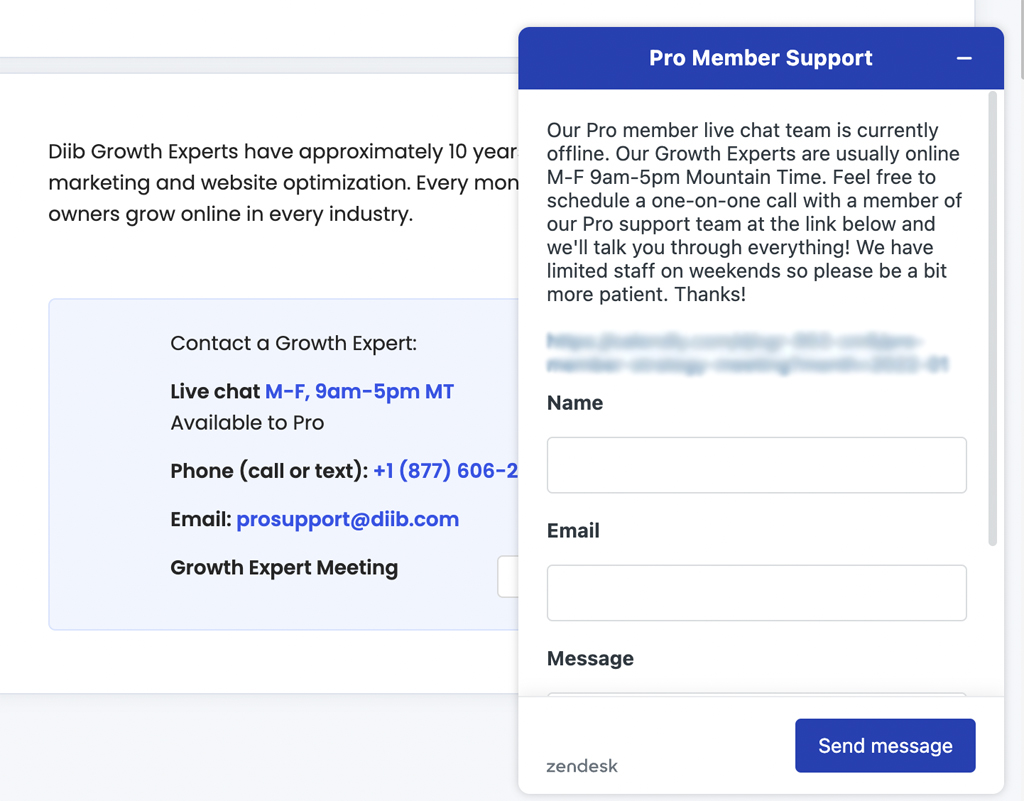 That being the case, I instead forwarded my question to support via the message box on the support page. However, I did not receive a reply to my question. Sadly, they get a thumbs down in this category.
Diib Pros and Cons
Pros:
Free Plan Available
Lower Cost Pro Plan
Easy Signup Process
Easy to Use Dashboard
Introductory Offer Includes Free DA66 Link
Cons:
Pro Plan Doesn't Provide Detailed Advice
Multiple Upsells
Customer Support Needs Improvement
Recommendation
Based on my experience using Diib, my conclusions are as follows. Diib is best suited for beginners or newbies with no SEO experience. It does offer an easy to use interface that presents your website data in a very user-friendly way. And, the Pro Member Plan offers some basic (though not detailed) tips on improving your SEO. However, experienced website owners with some knowledge of SEO will probably be better off using SEMrush or Ahrefs.
Also, keep in mind that while the Diib Pro Member Plan gives you some basic advice, it won't in itself improve your search engine rankings. For that, you'll need to sign up for one of their Fully Managed Growth Plans. Again, for beginners it may be more convenient to opt for one of these Diib Growth Plans. But, for experienced users, there are other SEO service providers that are probably a better fit.
The bottom line here is that Diib is useful for presenting your website SEO data in an easy to understand format. So, I would recommend signing up for the free plan if that's your primary use. You could even try out the Pro Membership as they often run discount promotions and you can cancel anytime if you want. Just remember that you'll probably need additional services (whether that's with Diib or another SEO provider) to actually improve your SERP.
Diib Review Ratings