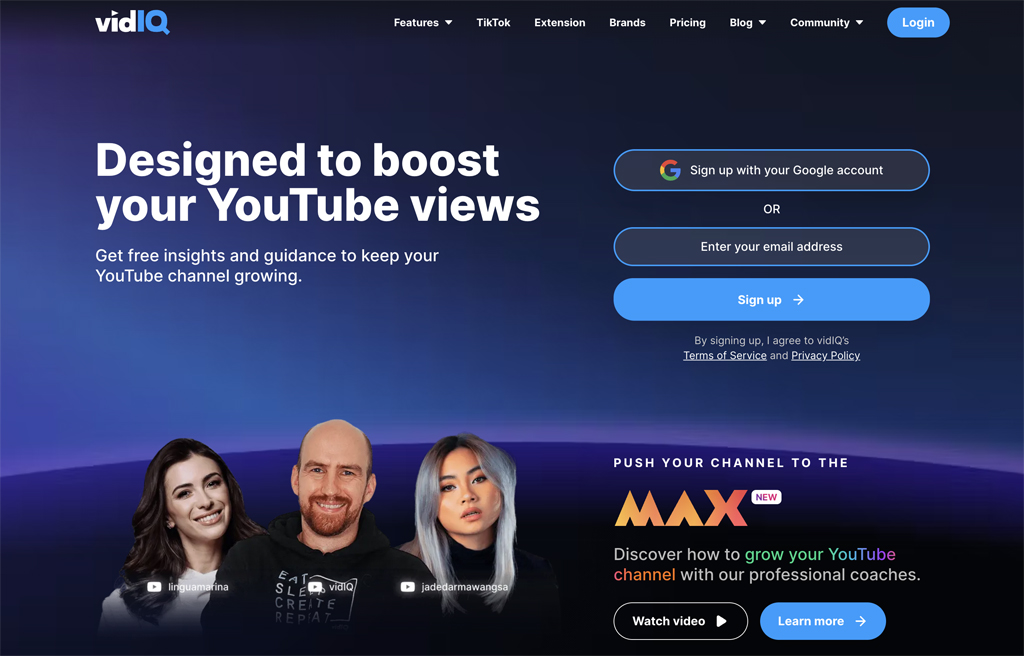 Google continues to be the number one search engine, and the main focus for website owner's SEO. However, it's important to remember that YouTube is the number 2 search engine. More importantly, video is definitely one of the best ways to both monetize your business and also boost your website's SEO.
While you can start analyzing your video performance within YouTube's analytics, if you really want to take your YouTube SEO to the next level, you need to use a specialized tool. Here, in my vidIQ Review, we'll take a look at what vidIQ does for you and how you can use it to greatly improve your YouTube results.
How Can vidIQ Help You?
vidIQ goes beyond the basic video analytics you get with your YouTube account. With vidIQ, you can not only track your views and subscriptions, but you can also monitor your video watch times and retention. Plus, you get daily ideas on video topics, AI video title recommendations, keyword research, competitor analysis, and info on the top videos from your channel.
Key Features of vidIQ
YouTube Channel Stats
Daily Video Ideas
Monetization Tracker
AI Video Title Recommendations
Keyword Opportunities
Competitor Analysis
Top Video Performance Data
Top Search Terms
Subscribers Overview*
Top Videos/Channels of Your Subscribers*
Bulk SEO Tool*
Expert Coaching Sessions*
*Requires Premium Paid Plan
The good news is you can test out and use most of the vidIQ features with their Free Basic Plan. Keep in mind that some of the features will be limited though. With vidIQ's premium paid plans, you get higher limits in addition to advanced features.
Pricing: How Much Does vidIQ Cost?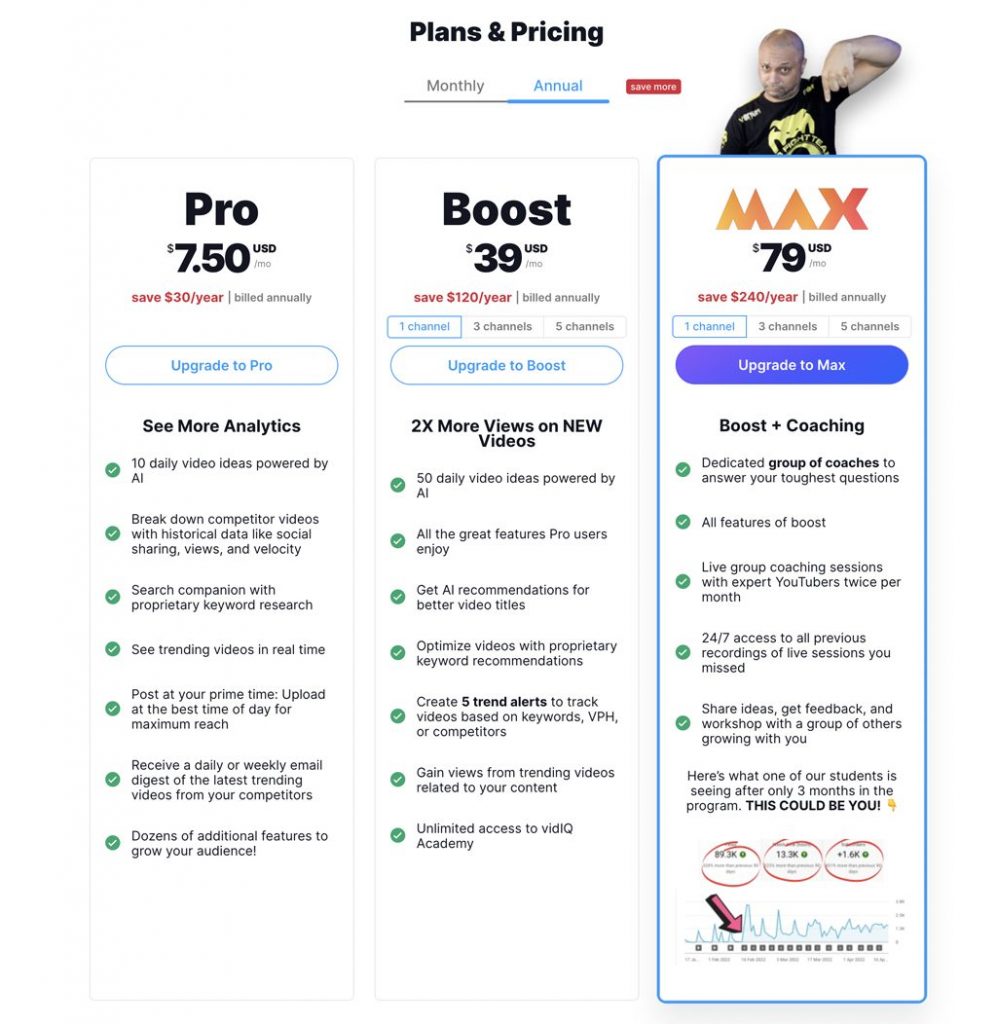 One of the best things about vidIQ is that you can get an account absolutely free. While it is somewhat limited, it's definitely enough to get you started. Then, if you see that it's a good fit for boosting your YouTube channel and videos, you can upgrade to one of their premium plans that give you a lot more features.
The free Basic plan is a great way to get familiar with using vidIQ. vidIQ has three different premium plans:
Pro
Starts at $7.50 mo.
Also Includes:
Bulk YouTube Descriptions
Keyword Research Tool
Most Viewed Videos
Top Tweets for Videos
Best Time of Day to Post
With the vidIQ Pro Plan, you get more analytics including trending videos, better data on your competitors, best video posting times, more daily video ideas, and more keyword search features. The Pro Plan allows you to more seriously grow your video channel and views.
Boost
Starts at $39 mo.
Also Includes:
SEO Title and Description Recommendations
Inline Tag Recommendations
Thumbnail Preview
Dedicated SEO Analytics
Channel Wide Tags
The Boost Plan builds on the Pro level plan and also includes the ability to track multiple channels, plus get more trending information, and access to the vidIQ Academy that includes training courses to help you even more.
Max
Starts at $79 mo.
Also Includes:
Priority Email and Chat Support
Live Group Coaching
Access to Recorded Sessions
Creators Community Access
If video is your number one content strategy, then the vidIQ Max Plan is best suited for you. The Max Plan includes everything you get in the Boost Plan, plus you get access to live coaching sessions and the community group where you can share and get feedback from other members of the group.
vidIQ Keyword Research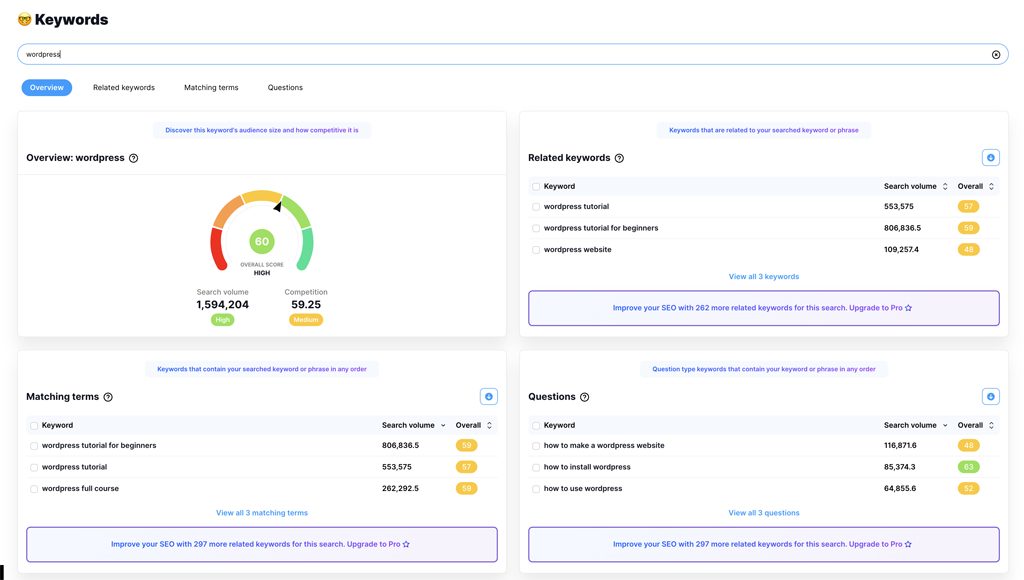 One of my favorite features in vidIQ is the Keyword Research tool. When you enter a keyword, you'll get to see the search volume and the competition—making it easier to choose the right keywords to focus on with a high search score and a low competition score.
You also get related keywords, matching long tail keywords, and keywords in the form of questions. You can then use all of these to create more popular videos.
vidIQ AI Title Recommendations

I was also impressed with vidIQ's AI Title Recommendations feature. vidIQ has done a great job with their AI engine that produces very helpful video title recommendations when you type in a keyword.
vidIQ: Analyzing Your Competition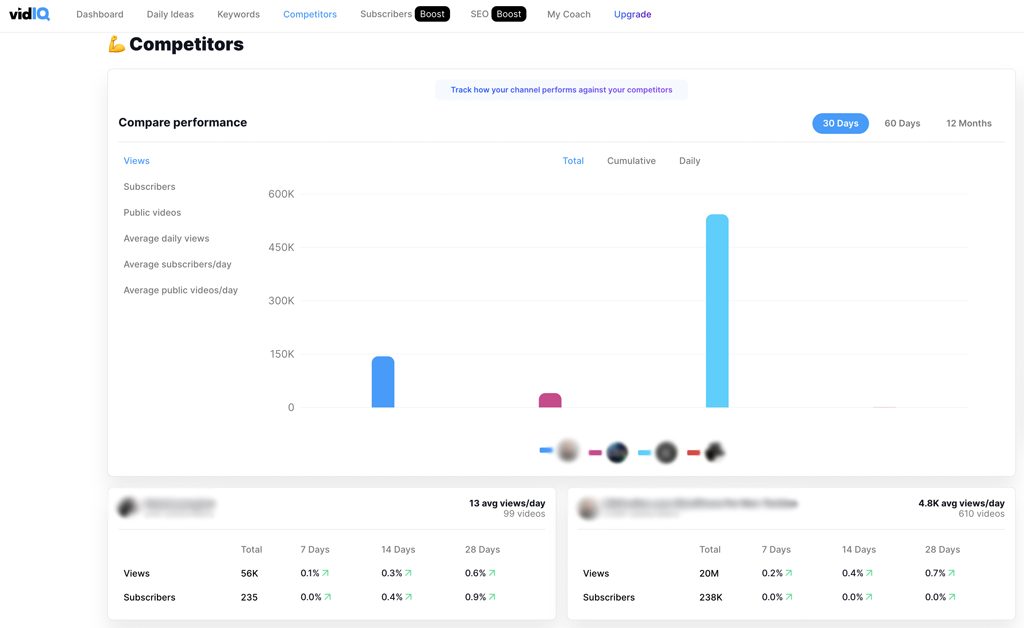 Another great feature you get with vidIQ is the ability to easily see how your channel matches up with your competitors. Once you enter your competition channels, you can see the areas you need to improve on.
vidIQ Chrome Extension
The above features are all available from within your vidIQ dashboard. However, that's only part of what you get with vidIQ. When you install the vidIQ Chrome Extension, you get access to even more valuable information when you're actually in YouTube.
You'll be able to see which videos have been viewed the most: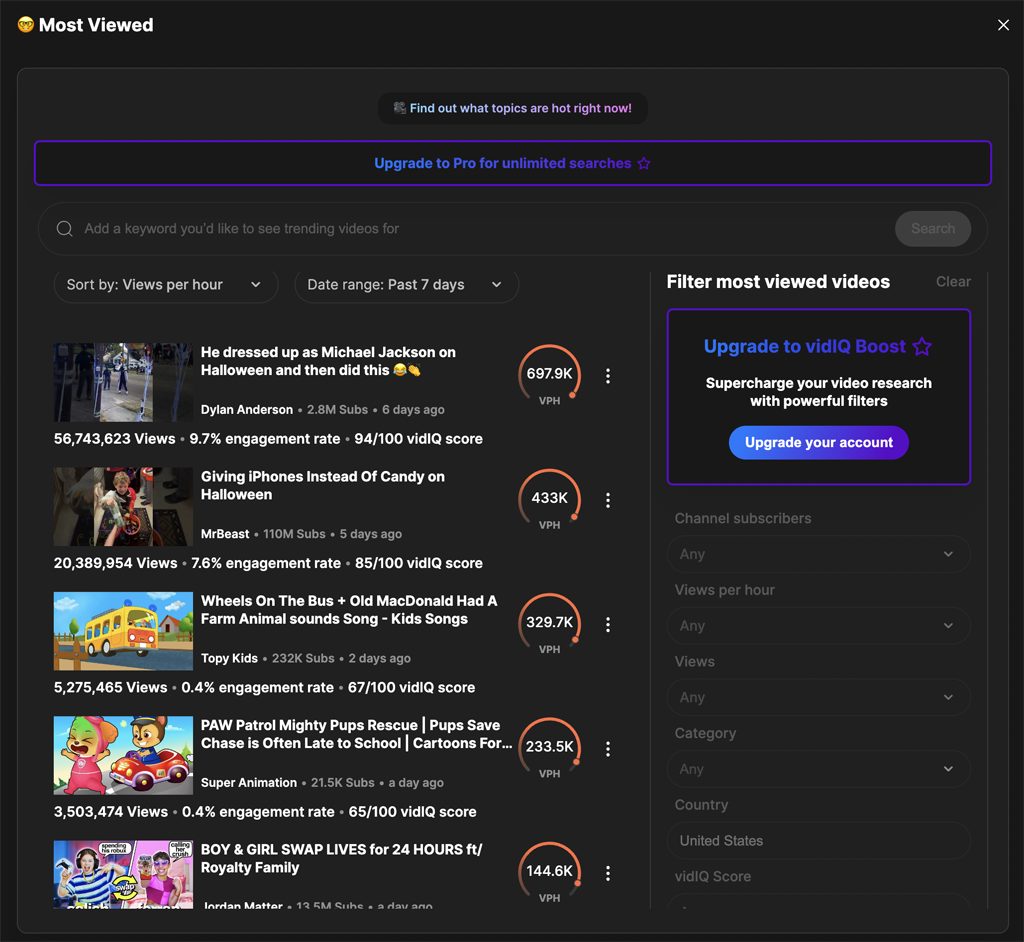 You can set up trend alerts to be notified when videos with your specified keywords are trending: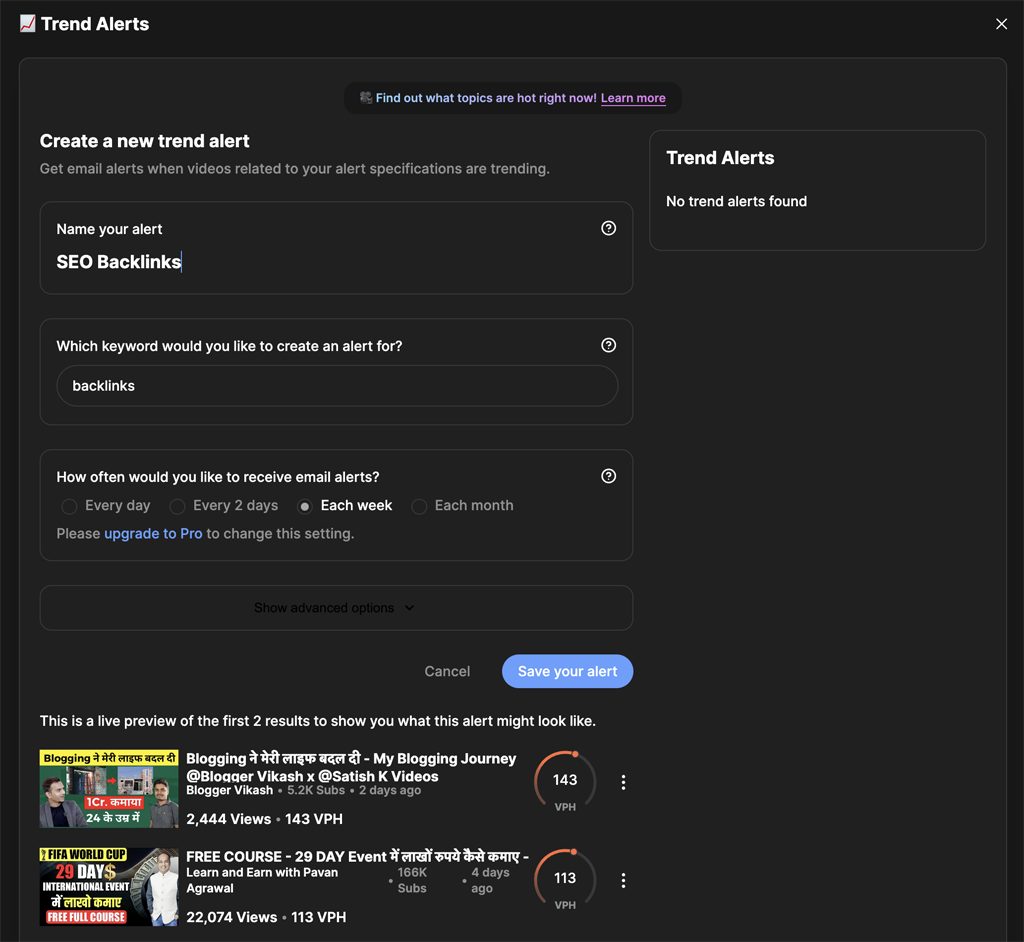 You also get access to more video stats and rankings as well as other functions such as Daily Ideas, Keyword Inspection, Competitor Analysis, Channel Audits, and more. Some of the features do require upgrading your plan. However, once you're upgraded, you get access to more features and data.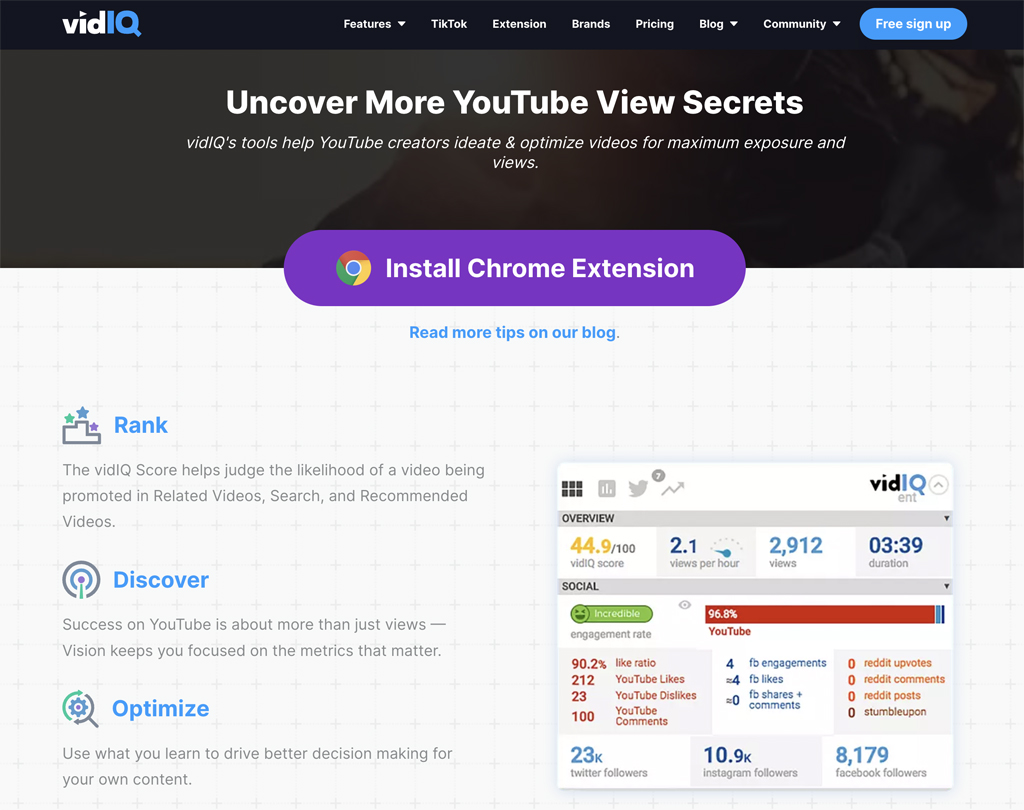 vidIQ Pros and Cons
Pros:
Free Plan Available
Easy to Use Interface
Helpful Video Keyword Research
AI Title Recommendation Feature
Easy Competitor Analysis
Cons:
Some Features Require Premium Paid Plan
Recommendation
vidIQ is a very impressive tool for growing your YouTube channel and video audience. I find it very easy to use and I would recommend all video creators at least sign up for the free version. And, if video is your main content outlet, I would also consider upgrading to the Boost or Max plan.
The Keyword Research and Suggestion features are especially helpful, as are the AI Title Recommendations and the ability to easily compare your channel to the competition.