Which AI content generator is better: GoCharlie or Jasper? In this comparison of GoCharlie vs Jasper, we'll see which of these content generators is the better choice for your website and social media channels.
GoCharlie AI Content Generator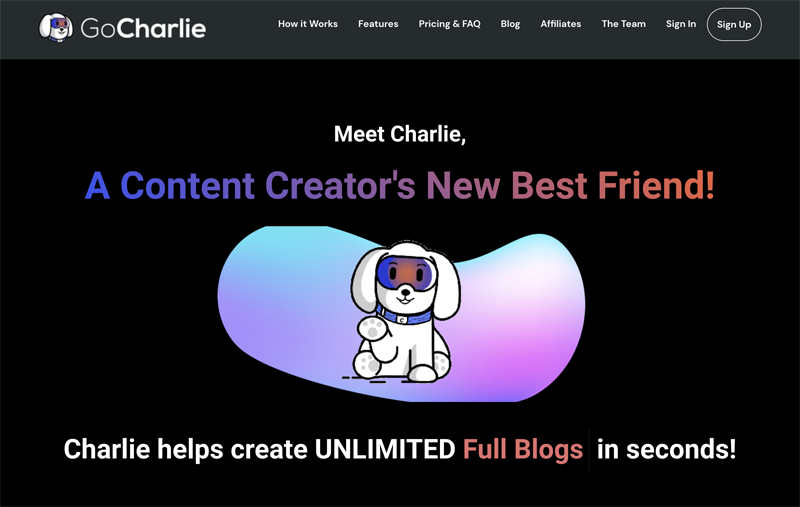 GoCharlie is an AI content generator that focuses on four major areas:
Charlie is the mascot dog for GoCharlie. Charlie is a clever way of demonstrating that using their AI generator is not only easy, but can be as entertaining as working with your pet dog.
Mission Statement:
We're a generative artificial intelligence company leading the development of a goal-driven and multi-modal engine: Charlie! Charlie helps entrepreneurs and enterprises create content that performs.
Jasper AI Content Generator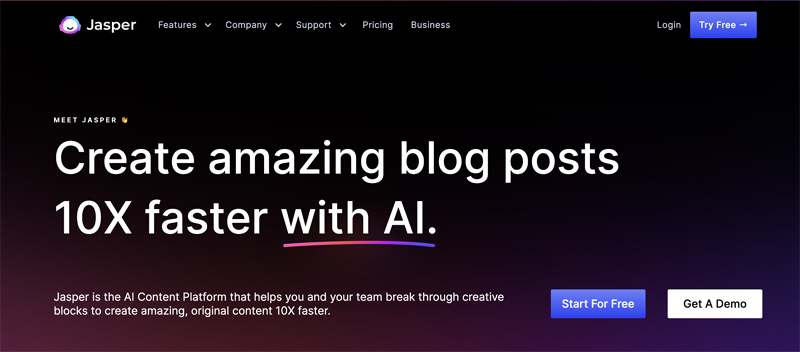 Jasper is a more ambitious AI content generator that includes more functionality that includes:
Mission Statement:
Jasper is the AI Content Platform that helps you and your team break through creative blocks to create amazing, original content 10X faster.
GoCharlie vs Jasper: Details
| | | |
| --- | --- | --- |
| | | |
| Easier to Use: | | |
| Better for Creating Blog Posts: | | |
| Better for Creating Images: | | |
| Better for Creating Social Media Posts: | | |
| Better Content Quality: | | |
| Better Content Formatting: | | |
| Better Customer Support: | | |
| Better Price/Value: | | |
GoCharlie vs Jasper: Key Features
At first glance, although GoCharlie and Jasper both offer the major functionality of creating blog articles, image art, and social media content, it appears that Jasper also includes many other features than Charlie. However, GoCharlie includes unlimited usage, while Jasper requires that you pay more if you go above a certain threshold of words per month. Also, if you want to create art images with Jasper, you have to upgrade to included the feature.
So, while you can create more types of content with Jasper, it will cost you more. If you don't really need the additional features, then it doesn't make much sense to spend more money. While this category is very close, Jasper does get the edge.
GoCharlie vs Jasper: Usability
GoCharlie has a more intuitive interface and has a much easier learning curve. You're able to get up and running faster with Charlie. I also prefer how you can more quickly and easily create long-form content with GoCharlie. When using GoCharlie, you just have to enter a title, specify your target audience, and enter some keywords. Then, with one click, you can have a complete blog post generated.
With Jasper, you really have to work at creating on section or topic at a time—rather than creating a whole article at one time. On the plus side, you are able to make more customizations in your blog post this way. However, it definitely takes longer to finish your work.
In this category, because GoCharlie is easier to work with and the work flow is more streamlined, they are the winner here.
GoCharlie vs Jasper: Performance
While both Charlie and Jasper produce good quality output, I prefer the long form content generation you get with GoCharlie. With GoCharlie, you can more easily create complete blog posts and articles. When you use Jasper, you really have to generate one paragraph or section at a time, which slows the process down.
GoCharlie vs Jasper: Content Quality
Both Charlie and Jasper produce professional quality output that you can include in your website and social media channels. However, for long form content I would recommend GoCharlie as you can more quickly and easily produce complete blog post articles.
I also prefer how the blog content you get from GoCharlie is formatted nicely and keeps its format intact when you copy it into WordPress or other software. Unfortunately, that isn't always the case with Jasper. Some of the content does hold its formatting, but when you generate content in other ways, it comes out as all just Times New Roman font.
For the above reasons, I give GoCharlie the edge here.
GoCharlie vs Jasper: Customer Support
Both GoCharlie and Jasper include chat box support. However, both support channels are actual email support, where you get a response usually within a few hours. That was the case with GoCharlie. Unfortunately, with Jasper I never got a response to my support inquiry!
In the customer support category, GoCharlie is definitely the winner.
GoCharlie vs Jasper: Pricing
GoCharlie is much more affordable than Jasper. You can actually start with their free plan as opposed to a limited 5 day trial with Jasper. Also, you can start using GoCharlie with no credit card required—unlike with Jasper.
With Jasper, you need to purchase their Boss Mode plan to create full length articles. The price starts at $59 mo. and increases depending on the amount of words you generate per month. And, Jasper charges an extra fee if you want to be able to generate AI images.
GoCharlie cost only $39 mo., and you get unlimited usage—including long-form content. Therefore, GoCharlie is the winner in this category.
Recommendation
Overall, in this comparison match up of GoCharlie vs Jasper, GoCharlie is the winner. GoCharlie is more affordable and easier to use. GoCharlie makes it a lot easier to generate complete blog articles. You get unlimited usage with GoCharlie's monthly plans, and you can start by using their free plan—with no credit card required.
The GoCharlie dashboard and interface allows you to get started quicker. And, we found the customer support with GoCharlie to be much more responsive.
If you can afford it, and are more interested in short-form content generation or you would rather have a bit more control producing smaller sections of your article at a time, then you might want to try out Jasper.
However, for most AI content generation (especially long-form blog posts) we recommend GoCharlie.
Pricing:
Features:
Blog Posts
Social Media Posts
Images and Art
Content Repurposing
Advantages:
Lower Cost
Can Start with Free Plan
No Credit Card Required to Start
Better for Long-Form Content
Easier to Use
Better Formatting for Blog Posts
Review Ratings:

Pricing:
$29 mo. – $59 mo.
(higher depending on usage)
Features:
Blog Posts
Social Media Posts
Amazon Product Descriptions
Google Ads
Video Outlines
Images and Art (Requires Additional Fee)
Advantages:
Review Ratings: